Climate Visuals evidence base
Grounded in research
Climate Visuals' practice, insights and our image library are based on international social research and evidence to catalyse imagery that is not just illustrative but truly impactful.
Visual media is vital to connect with audiences, but environmental imagery is often ineffective, inaccessible or absent. Communicators and editors resort to using the same familiar metaphors, poorly representing people's experiences and connecting with a very limited sector of the world's population - missing a vital opportunity for real and lasting public engagement.
We are grateful for the wider resources, evidence and studies upon which the Climate Visuals project draws.  Photography ethics and research is a growing field but we acknowledge there remains substantial disparity and gaps in knowledge that need to be addressed.
Linked and summarised below are reports and resources that Climate Visuals has contributed to the field as lead author, partner or commissioner.
The first Climate Visuals report 'Climate Visuals: Seven principles for visual climate change communication (based on international social research)'  remains the pillar of our research base and public engagement.
The research combined two different methods. Four structured discussion groups (with a total of 32 citizens) were held: two in London, and two in Berlin. Participants responded to dozens of climate images, engaging in detailed discussions about what they saw. Following this in-depth research, an international online survey of over 3,000 people was conducted, with participants split equally between the UK, Germany and the US. The survey allowed us to test a smaller number of images with a much larger number of people. Full details of our the methodology can be found on our Climate Outreach programme page.
1. Show 'real people' not staged photo-ops
A person expressing an identifiable emotion is powerful. But our discussion groups favoured 'authentic' images over staged photographs, which they saw as gimmicky or even manipulative. Politicians – notoriously low on credibility and authenticity – attracted some of the lowest scores (in all three nations) in our survey.
2. Tell new stories
Images that participants could quickly and easily understand – such as smokestacks, deforestation, and polar bears on melting ice – tended to be positively rated in our online survey (which captured rapid responses to images, rather than deeper debate). Familiar, 'classic' images may be especially useful for audiences with limited knowledge or interest in climate change, but they also prompted cynicism and fatigue in our discussion groups. They are effective ways of communicating to an audience that 'this story is about climate change'. But is it a story they want to hear? Less familiar (and more thought-provoking) images can help tell a new story about climate change, and remake the visual representation of climate change in the public mind.
3. Show climate causes at scale
We found that people do not necessarily understand the links between climate change and their daily lives. Individual causes of climate change (such as meat-eating) may not be recognised as such, and if they are, may provoke defensive reactions. If communicating the links between 'problematic' behaviours and climate change, it is best to show these behaviours at scale – e.g. a congested highway, rather than a single driver.
4. Climate impacts are emotionally powerful
Survey participants in all three nations were moved more by climate impacts – e.g. floods, and the destruction wrought by extreme weather – than by causes or solutions. Images of climate impacts can prompt a desire to respond, but because they are emotionally powerful, they can also be overwhelming. Coupling images of climate impacts with a concrete behavioural action for people to take can help overcome this.
5. Understand your audience
Unsurprisingly, levels of concern/scepticism about climate change determined how people reacted to the images we tested. But other differences emerged too – images of 'distant' climate impacts produced much flatter emotional responses among those on the political right. Images depicting solutions to climate change generated mostly positive emotions – for those on the political right, as well as those on the left.
6. Show local (but serious) climate impacts
When images of localised climate impacts show an individual person or group of people, with identifiable emotions, they are likely to be most powerful. But there is a balance to be struck (as in verbal and written communication) between localising climate change (so that people realise the issue is relevant to them) and trivialising the issue (by not making clear enough links to the bigger picture).
7. Be very careful with protest imagery
Images depicting protests (or protesters) attracted widespread cynicism and some of the lowest ratings in our survey. In our discussion groups, images of (what people described as) 'typical environmentalists' only really resonated with the small number of people who already considered themselves as activists and campaigners. Most people do not feel an affinity with climate change protesters, so images of protests may reinforce the idea that climate change is for 'them' rather than 'us'. Protest images involving people directly affected by climate impacts were seen as more authentic and therefore more compelling.
Additional Climate Visuals co-authored papers
We have also co-authored two academic articles related to the Climate Visuals project:
Chapman, A., Corner, A., Webster, R. and Markowitz E. (2016): Climate visuals: A mixed methods investigation of public perceptions of climate images in three countries, Global Environmental Change. 41, pp.172-182
Wang, S., Corner, A., Chapman, A., Markowitz, E. (2018): Public engagement with climate imagery in a changing digital landscape, Wires Climate Change
Climate Visuals and Communications Inc developed the photography brief for our Ocean Visuals photography open call based on evidence of people's responses to imagery, published research, known content gaps and industry best practice.
The Ocean Visuals open call for photography aimed to create a new evidence-based collection of impactful and truly diverse ocean and coastal climate imagery – all equitably accessible to the media, non-profit and education sector.
93 photographs were licensed for a $1000 fee per photograph, with the resulting collection being released in the run up to COP27.
The eight point photography brief:
1. Show people in ocean and coastal regions with authenticity
Always choose real images and people - never staged or manipulated photos
Authentic images have more impact, especially with an identifiable emotion, familiar scene, geography or concept
Depict a variety of ocean and coastal regions with authentic activities
Foster a real sense of place - avoid just showing a location
2. Visualise the diversity of people-and-ocean connections
Avoid abstract photographs of marine life without people, their activities or relationships
Avoid generic, distant, ocean imagery
Show the multitude of ways that people connect with or rely on the ocean
Showcase how people, their values, beliefs and identity are tied to the ocean
3. Tell new stories
Less familiar, more thought-provoking images and narratives can remake and improve the visual representation of the environment
Familiar, 'classic' images - such as polar bears, melting ice or plastic pollution - can cause cynicism and fatigue as they are overused and stereotyped
Visualise connections to the high seas and deep ocean.
4. Find ocean and climate causes, impacts and solutions at scale
People can't always see the links between the ocean, climate change and their daily lives
Individual causes of climate change or harm - such as eating fish - may provoke defensive reactions
When showing 'problematic' behaviours, show subjects at scale e.g. a trawler vessel, rather than a single fisher-person
Showing positive solutions at scale conveys the potential to effectively tackle ocean and climate issues and helps overcome present day fears
5. Pair emotionally powerful impacts with positive actions
Climate impacts can be emotionally powerful and promote a response
People are moved more by images of impacts - e.g. floods and destruction from extreme weather - than by causes or solutions
However, climate impacts - because they are so emotionally powerful - can also be overwhelming and leave people feeling hopeless
Therefore coupling or showing images of climate impacts with a concrete and attainable positive solution for people is very effective
6. Develop ideas to invite curiosity and foster engagement
7. Prioritise ethics, safety, wellbeing and prevention of harm
Honouring people who fight or campaign for the environment is vital but anonymity of people, places and informed consent is necessary to reduce risks
Develop informed consent - collaborate, co-create and participate - so communities can take decisions collectively and positively
Self-interested photography is a serious problem when working in many cultural contexts, Indigenous Territories, marginalised or vulnerable communities
Strive to show utmost respect, friendship and appreciation for the support received
Be mindful of how you portray people and respect the people you work with or photograph, ensuring you deal with everyone as your collaborator and active participant
Do not cause or normalise harming or disturbing wildlife and habitats
8. Be aware of problem narratives
Go beyond visual cliches, overused icons and familiar underwater imagery
Be cautious with protest imagery as the images may only resonate with people who already consider themselves activists, campaigners or environmentalists
However, protest images clearly involving people directly affected by climate impacts, especially seeking climate justice, are seen as more authentic and therefore more compelling
Recognise the problems of a saviour complex and instead focus on images that empower communities.
Don't misrepresent heatwaves as 'fun in the sun'
Be careful illustrating the ocean as 'vast and otherworldly' as it can undermine its real vulnerability and the risks of negative change
Read the Ocean Visuals country specific evidence base.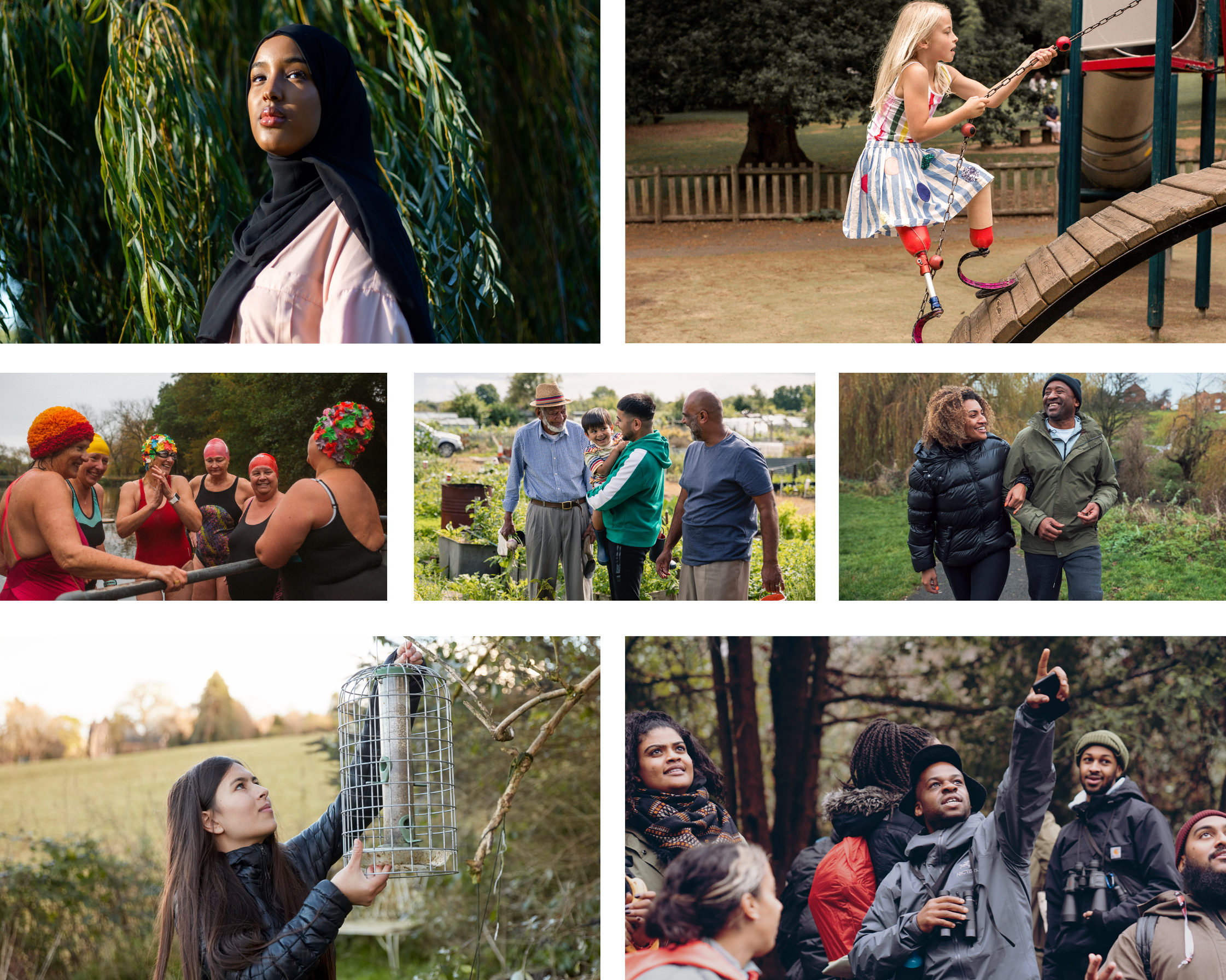 Photos of the natural environment do not reflect the social, ethnic or geographic diversity of the country, which may create barriers to some people enjoying and feeling a sense of belonging in  nature. How can we build a better, more inclusive visual language?
Images matter. As people, we need to see ourselves in images relating to the natural environment so we connect with them and see the relevance of them to our lives. The photos we see of natural spaces need to be inclusive, authentic and show people from diverse backgrounds in diverse outdoor spaces. This is also important for connecting people with messages around our big challenges including climate change and biodiversity loss. Experiencing natural spaces in all kinds of ways helps to provide that connection and we know that for some, this is not currently part of their lives.
This matters for climate change too. Spending time in nature is a proven way to engage people with the climate crisis and a lack of inclusive imagery makes it harder to build a diverse climate movement.
Natural England commissioned Climate Outreach to speak with conservation organisations, community groups, online influencers and nature enthusiasts to explore how we can diversify the images of people and nature, resulting in a practical, evidence-based report. Below we highlight its set of six principles, developed to help guide the production of images that showcase the variety of ways that people can connect with and benefit from nature.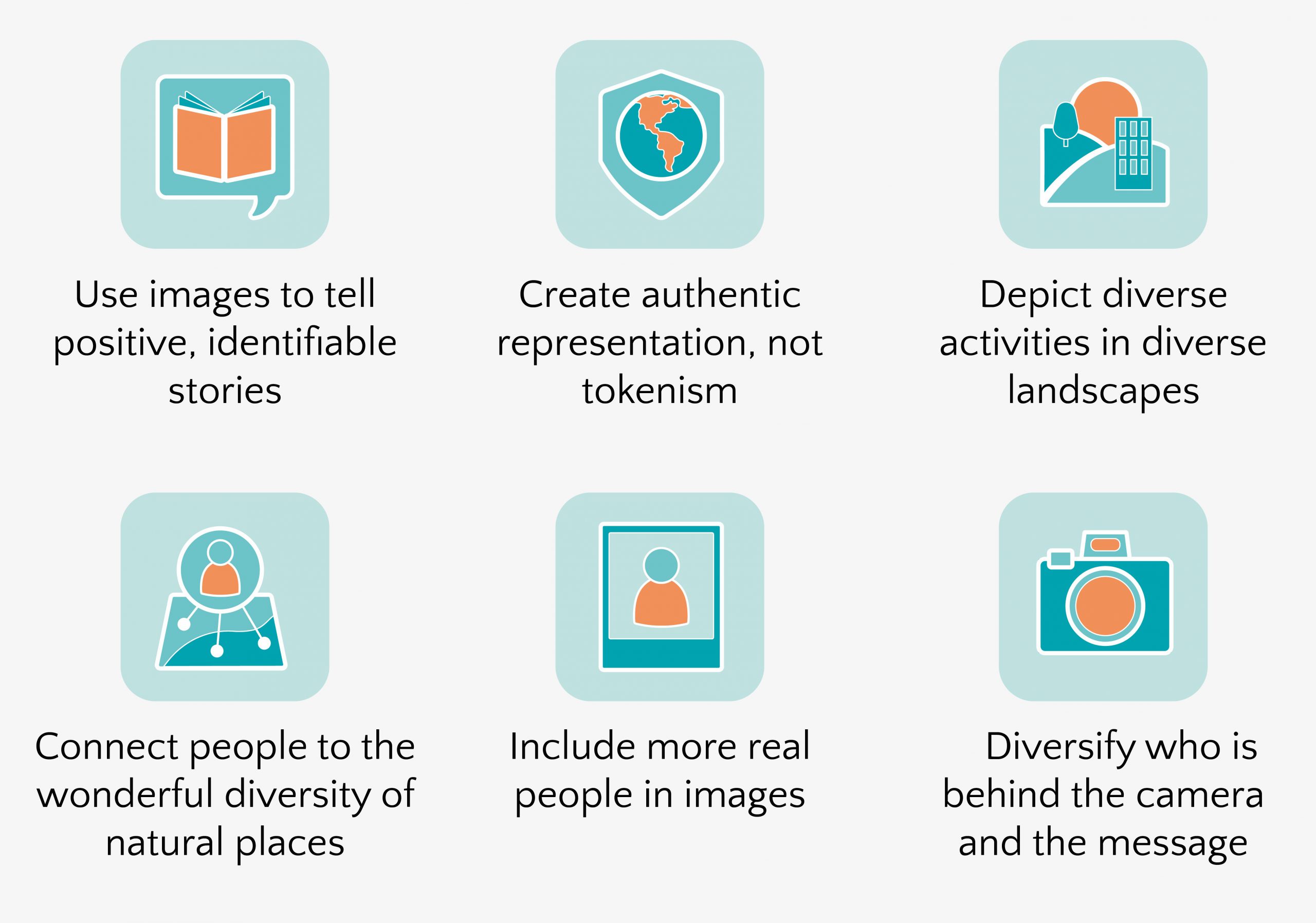 1. Use images to tell positive, identifiable stories
Visuals can capture attention, promote interest and motivate engagement. Showing diverse individuals doing fulfilling activities in natural spaces will enhance feelings of inclusion and belonging. These positive representations are critical for reaching out to people who are left out of traditional outdoor narratives
2. Create authentic representation, not tokenism
Authenticity is critical to telling an empowering, inclusive story that audiences will connect with. Stock imagery and staged portraits provide a veneer of representation but are not empowering and may backfire if they are perceived as fake or tokenistic. Display real images of diverse individuals enjoying a variety of natural spaces in ways that can connect with them on a personal level.
3. Depict diverse activities in diverse landscapes
The cultural narrative of what it means to enjoy the outdoors is dominated by a narrow subset of landscapes, activities and people. Expand representation to break through harmful stereotypes and embrace new and different visual narratives of spaces, people and activities.
4.  Connect people to the wonderful diversity of natural places, from urban parks to national landscapes
Most people live in towns and cities and most outdoor experiences occur in urban areas. Yet imagery of natural spaces focuses on the countryside.  We need to show more urban green areas and tell visual stories about people enjoying nature in their everyday, as well as on holidays. This could be walking a tree-lined urban avenue or walking a national trail, a day trip to a city park or to a national park.
5.  Include more real people in images
Images of idyllic countryside tend to dominate the visual story, but they do not fully represent the many reasons people enjoy the outdoors. Broaden the visual narrative and connect natural spaces to peoples' everyday lives by capturing the many ways people use the outdoors to connect with friends and family, as well as with nature.
6.  Diversify who is behind the camera and the message
Fixing the 'who', 'what', and 'where' of outdoor imagery is only part of the solution. We also need to diversify who is behind the camera and designing the wider communications, in order to provide greater authenticity and empowerment to those being photographed.
A diverse group of individuals are already harnessing the power of social media to shift the outdoor narrative by documenting their own experiences. Learn from these people and work with them to create new visuals.
Download the full report here.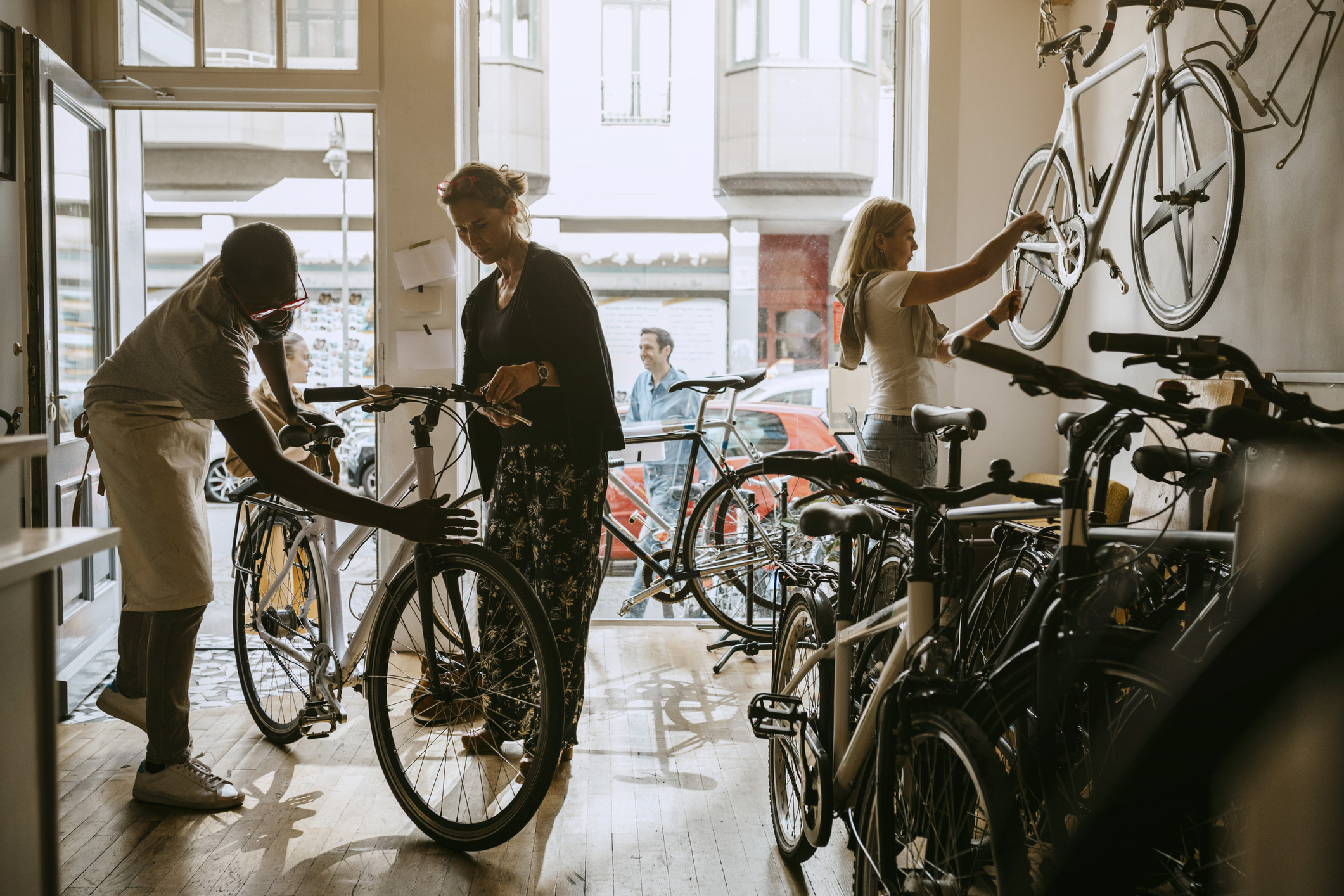 This research investigates how climate change and climate action are seen in Germany and which images resonate with people with different views in society.
The research formed part of the larger Germany Talks Climate study conducted in February and March 2022 examining attitudes towards climate change and climate action in Germany. 'Übers Klima reden' (in English: 'Germany Talks Climate') is a joint project by Climate Outreach, More in Common Germany and klimafakten.de, funded by Stiftung Mercator and the European Climate Foundation.
These results on imagery form the first image research update in Germany since the original Climate Visuals study in 2016. The underlying research was developed in collaboration with More in Common and uses their values-based segmentation approach for the first time in visual research with German society.
Based on the Seven Climate Visuals principles, 17 images were selected and tested with six focus groups in Germany as well as through a representative survey with a sample of the German population.
Images of flooding in Germany are powerful and connect across society.

Imagery can be used to tell new stories about heatwaves.

Images of families and children can help people relate to climate change impacts.

Climate solutions imagery can effectively depict success stories but needs to be contextualised.

Images of activists generate mixed and often negative reactions.

Images depicting a range of renewables to represent Germany's energy future are more likely to appeal across society.

Images portraying visions of the future have potential, but by definition appear distant.

Polar bears are iconic, but not sufficiently compelling.
Read a summary in English and the full range of insights, including an overview of all the images that were tested, in German.
Indigenous media presence refers to the Indigenous demand to be seen, heard and known by the international community using both local and global media platforms. It also concerns the communication of cultural, linguistic, political, spiritual and environmental priorities and sensibilities of Indigenous Peoples, particularly regarding the fast-changing conditions of life within Indigenous Territories.
There is a rapidly growing appetite for narratives and images of the climate crisis related to endangered forests and Indigenous communities. However, inconsiderate media publication risks simplifying and sensationalising a complex story narrative while also isolating and burdening these communities with a responsibility to protect primary forests. Well-meaning but uncritical production and consumption of imagery in this context presents enormous risks and is also a lost opportunity for self-determination and lasting climate solutions.
If the media economy fully engages and connects with Indigenous communities and adopts these principles, it can help tell stories of climate action in a way that is both effective and transformational. The global media has a real opportunity to empower people living in primary forests who are fighting for climate solutions and preserving nature.
Climate Visuals was commissioned by the Climate and Land Use Alliance to create recommendations of best visual practice for content producers, editors, distributors, agencies and publishers who wish to work with, for, or who are from, the Indigenous and forest communities of Central and South America. It is an openly accessible, English, Spanish and Portuguese translated report to catalyse positive change and connections towards imagery that is transformative, sustainable and impactful around the issues of land use, conservation and climate solutions.
Hosted on Climate Outreach's website it also contains a detailed research report and literature review which draws richly on new conversations held with Indigenous leaders and photographers, media stakeholders and NGOs in 10 different countries. The online resource details and illustrates eight new principles prepared by a team of researchers, with inputs from Climate Visuals, If Not Us Then Who, Nicolas Salazar Sutil, Jaye Renold and Leah Rangi.
Eight principles for Indigenous media presence:
View the full resource here.
In January 2020, Climate Visuals and Saffron O'Neill, Associate Professor in Geography at Exeter University, organised the 'Visualising Climate Change 2020 Hackathon' to critically update and expand the evidence base for how to effectively communicate climate change through imagery.
Over a dozen academics, all specialising in climate change imagery,  as well as industry professionals from both Getty Images and the World Press Photo Foundation were convened. The original 7 Climate Visuals principles were critically tested and scrutinised but reassuringly, came away unscathed as an accessible and robust guide to editing and commissioning Climate imagery for 2020.
Getty Images has partnered with the Climate Visuals programme to launch guidelines helping brands and businesses use visuals which incite change. The guidelines are linked to curated imagery of example content and give brands and businesses practical recommendations on how to find and use fresh and relevant visual content to communicate their commitment to sustainability and inspire their audiences to action.
How imagery of air pollution can communicate the health impacts of climate change.
We conducted new survey research - the first of its kind - to reveal how the UK public engages with imagery communicating the health impacts of climate change (and the health benefits of low carbon measures). We found that images showing air pollution (compared to images of floods, heat stress, and infectious disease) were found to be more effective for visually communicating the health impacts of climate change: the health consequences of climate impacts other than air pollution are not yet visually salient in the public mind. Visual communication on the health impacts of climate change should therefore build on the salience of air pollution as an issue with links to climate change to create a visual narrative of climate impacts that is people-focused and relatable and which introduces the link between health and other climate impacts. Combine these health-impact images with solutions-focused photos that build a sense of 'efficacy', and highlight positive social norms (around people taking relevant climate actions). This research was conducted pre-Covid and that subsequently the wearing of a personal mask now no longer simply signifies air pollution.
Read the full report
The second and third Climate Visuals reports contain an analysis of the key visual themes from the landmark UN climate conference in 2015 in Paris (COP21), and a comparison with the visual language of the following conference in Marrakech (COP22). Both reports provide concrete, tangible and practical suggestions for telling more compelling visual stories on climate change at the UN climate conferences and beyond.