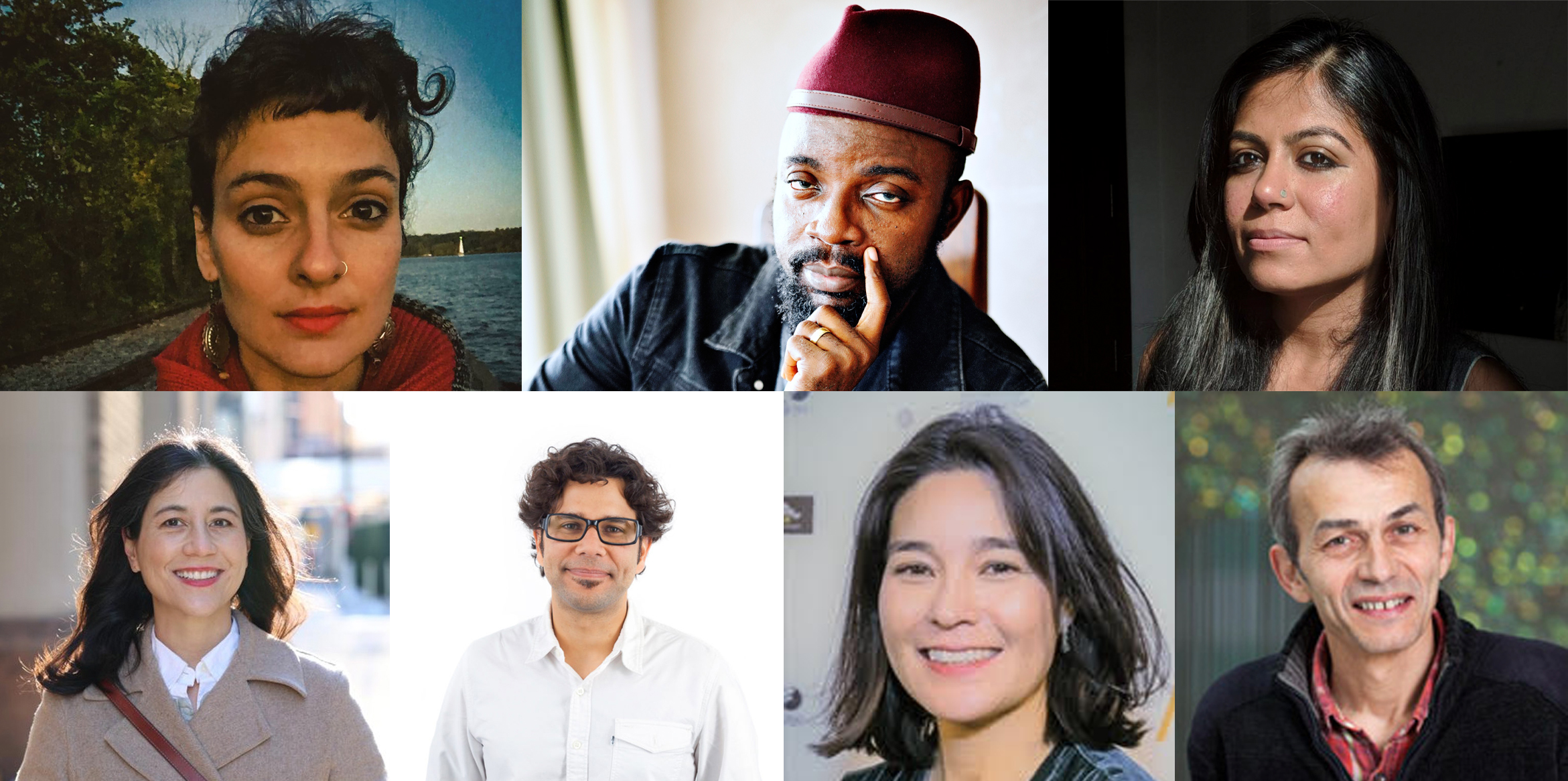 Visualizing Climate Change - Judges
Annick Shen,
Head of Editorial at
Adobe Stock
Annick Shen is the Head of Editorial at Adobe Stock's Editorial Collection where she is building out their editorial offering. She is also part of the small team that created the Adobe Stock's Advocates program and the Artist Development Fund, which supports self-identifying artists from underrepresented communities to provide fresh, modern, and accurate imagery to mainstream media. Previously, she was a Senior Executive Producer for Blink Media, a NY production house that hired photojournalists and documentary photographers to create custom content and visual branding for businesses. In 2015 and 2017, she worked with Elisabeth Biondi on Mauricio Lima's Syrian refugee exhibit, Farida, Um Conto Sírio, and on the Annenberg Space for the Photography Refugee exhibit, which was done in collaboration with the UNHRC. Prior to this, Annick worked at Open Society Foundations in a unique joint position as the Senior Communications Coordinator for Photography that also worked with the Documentary Photography Project. From 2007-2012, she was a Senior Photo Editor at Reportage by Getty Images and prior to that was a freelance photo editor at The New York Times. 
"This initiative put forth by Climate Visuals and TED Countdown is impressive because it is no small task to change the global dialogue and imagery around climate change from the current doom and gloom viewpoint; to focusing on solutions and innovative ways different cultures are addressing their environment. This change of perspective will lead to more people engaging in active roles to find climate solutions, which would be the ultimate success. Also, this initiative is truly committed to diversity, equality, and inclusion (D, E & I). Climate Visuals and TED Countdown have taken the many laborious legal steps and local translation efforts required to make this accessible to applicants of all ages from the global community. Their continued commitment to D, E &I is also reflected in their jury. In addition to these reasons, the opportunity to engage in discussion and learn from the other jurors makes me excited and honoured to be part of this initiative."
Eric Hilaire,
Environment, Science and Global Development Picture Editor at
The Guardian
Eric gained a BA in Chinese Studies from Bordeaux's Michel de Montaigne University in 1988, and then spent a year in Shiyan in central China teaching French to Chinese car engineers. After returning to France he obtained a Diploma in Information Retrieval Technologies, and began a thesis on the history of hydrology in early China while working as a librarian at the Institute of Advanced Chinese Studies at the Collège de France in Paris. He returned to China in 1992 on a scholarship to study information retrieval and librarianship at Wuhan University. The following year he moved to Hong Kong, where he began his career as a newspaper picture editor. He worked first at a brand-new English-language daily called the Eastern Express, managing its digital picture library, and then at the South China Morning Post. In 2000, Eric moved to London and joined The Guardian, where he has worked across several departments and is currently the Science, Environment and Global Development Online Picture Editor.
Born in El Salvador, Luis grew up in several Central American countries, before studying Marketing (BS), Advertising (MA) and Journalism (MA) in the United States. He then delved fulltime into photography for a two-year stint in New York City, which saw him exhibit his documentary work in the Museo del Barrio's Bienal: The (S) Files (2005) and the Salvadoran National Museum of Anthropology (2006). For the past 15 years, Luis has applied his communications knowledge and experience, including his passion for photography, to highlight the crucial work that international organizations are doing in the agricultural research for development realm. Luis joined the Crop Trust in 2013 and since then has focused his efforts to help raise awareness on the importance of crop diversity and the urgent need to safeguard it and make it available, to help the global community adapt our agriculture to present and future challenges, including those related climate change. The Crop Trust's #CropsInColor campaign, which celebrated the countless and diverse roles crop diversity plays in different corners of the world, exemplifies his commitment to, and passion for, photography. Today, for Luis, be it working with other photographers or capturing images himself, photography continues to play a key role in his professional and personal life.
"Photography must go beyond the easy and cliched image, the shorthand alternatives, that attempts — but fails — to address the hard realities we currently face, and what some of us are doing to alter the future, for the better. We need powerful and compelling images that inspire us all to action, both by capturing the challenges and the possibilities that arise with climate change. Photography has the ability to do this; examples abound in the medium's history. For this, photographers today must harness the documentary and artistic tools and methods inherent to the practice and profession to achieve this — thinking outside the box, investing more time out in the field, engaging with the actors who are in the front lines of this global transformation, and doing so, without stripping them of their dignity, without sacrificing the diverse and complex realities that co-exist and affect each other in this global community of ours. We need to find and develop a new visual vocabulary, beyond the cracked earth, beyond the windmill landscape, beyond the tree stump and the factory smokestack. Lastly, we must acknowledge and applaud those photographers who are diving deep within themselves and deep within the issues they embrace, to bring us those stop-you-on-your-tracks-images that invite audiences to engage with the topics at hand."
Nana Kofi Acquah photographs, films and writes across Africa for such clients as Oxfam GB, The Global Fund, Americares, Nike, the BBC, The Financial Times, BASF, Novartis Foundation, ActionAid, WaterAid, Facebook, Hershey's, AfDB, Standard Bank etc. Nana fuses his journalism and advertising past into his work as a documentary photographer and writer, hoping to help reposition the continent through new visual imagery and discourse. Nana is also an assignment photographer for Getty Images and a World Press Photo competition 2019 jury member. His Instagram account (@nanakofiacquah) was listed by Shutterstock as one of the best 100 to follow for photography enthusiasts.
"I'm excited about the potential impact this collaboration between Climate Outreach and TED can create. Our planet is fast becoming uninhabitable so we must with agency, combine all our powers, and come to her rescue. The photograph is immensely powerful, and in the right hands, it can be used to change the world. This is why I'm excited about this Climate Outreach and TED climate change photography initiative."
Nicole Itano,
Global Recovery Collective Coordinator at Climate Emergency Collaboration
Nicole Itano is the coordinator of the Global Recovery Collective, a new initiative to support campaigning and communications for a fair and green recovery from COVID-19. She began her career as a journalist, reporting on international issues in Africa and Europe, before moving to the non-profit and campaign sector where she held senior roles at Save the Children UK and WWF-UK and served as Executive Director of TVE (Television for the Environment). Last year, she helped lead a United Nations initiative, Verified, aimed at combatting COVID-19 misinformation. Nicole is also the author of 'No Place Left to Bury the Dead: Denial, Despair and Hope in the African AIDS Pandemic' and in 2020 was named as one of the most influential BAME voices working in climate change in the UK by the Climate Reframe Project. 
"I'm a huge believer in the power of photography to set and change narratives. This fantastic project with Climate Visuals and TED Countdown will build a high-quality, open source pool of photographs that help us show that climate change is not just about wind turbines or bush fires or polar bears, it's about people and how we live our lives. I hope they will also inspire us to understand that climate action can help us build a better, more just world. Most importantly, this collection will make compelling, powerful imagery accessible to the people around the world working hard to drive change, while at the same time ensuring the contributing photographers are fairly compensated for their labour and artistry."
Shadia Fayne Wood,
Executive Producer and Founder of the
Survival Media Agency
Shadia is the Executive Producer and Founder of the Survival Media Agency, a non-profit and global media network that produces photo and video documentaries on climate change, and is an Arab American film director and photographer. She became an advocate for justice and the environment at an early age. At seven she got involved in a campaign to address the cancer cluster in her community that was caused by toxic waste. Though young, she spearheaded a successful eight-year campaign to pass state legislation to refinance the Superfund Program in New York State. She is a recipient of the Yoshiyama Award and the Brower Youth Award and has been featured in the 2007 Green Issue of Vanity Fair and is a recipient of Elle Magazine's 2008 Green Awards. Shadia worked for the Environmental Justice & Climate Change Initiative as the youngest Campaign Coordinator in the Energy Action Coalition. Her photos have been featured in the New Yorker, the Boston Globe, MSNBC, and the front page of the Huffington Post among many others. She has managed photo and video teams for all major actions in the DC area on the Keystone XL pipeline, for all the national summits on climate change in the US Power Shift '07, '09, '11, and '13, and for distributed actions across the globe. In 2016, she helped produce thirty short films and coordinated photography for over 15 events.
"Having been at the forefront of both community based grassroots solutions around the climate crisis and visual media, I'm so excited to support this effort that combines both of these loves of mine. Photography is a crucial tool in asserting narratives of justice and equity and this is at the heart of this initiative."
Tanvi Mishra,
Creative Director of
Caravan Magazine
Tanvi Mishra is a Delhi-based photo editor, curator, and writer. Among her interests are South Asian histories and activisms, peoples' movements as well as the notion of fiction in photography, particularly in the current political landscape. She currently works as the Creative Director of The Caravan, a journal of politics and culture published out of Delhi. She is part of the photo-editorial team of PIX, a South Asian publication and display practice. In 2013 and 2015, she was part of the Delhi Photo Festival team in India and was a guest curator at the second edition of Photo Kathmandu, held in Nepal in 2016. She occasionally writes on photography and her work has been published in FOAM Magazine, Transformations—Exploring Changes In and Around Photography, and The Caravan, amongst others. She has served on various juries, including World Press Photo, Hindu Photojournalism Awards and the Catchlight Grant. She is a nominator and was on the jury panel of World Press Photo Joop Swart Masterclass. She has also been a curatorial collaborator for the Greenpeace Photo Award and a mentor for the Women Photograph program.
"At times, to believe in the idea of justice, we need to see what that looks like. Visualizing Climate Change, particularly with its focus on inclusive global narratives, offers an opportunity to picture climate justice, and to reimagine what these solutions may look like, taking lessons from local communities and practices. What really got me on board was the twin aim of picturing climate solutions from across the world, and offering photographers monetary support while doing so."