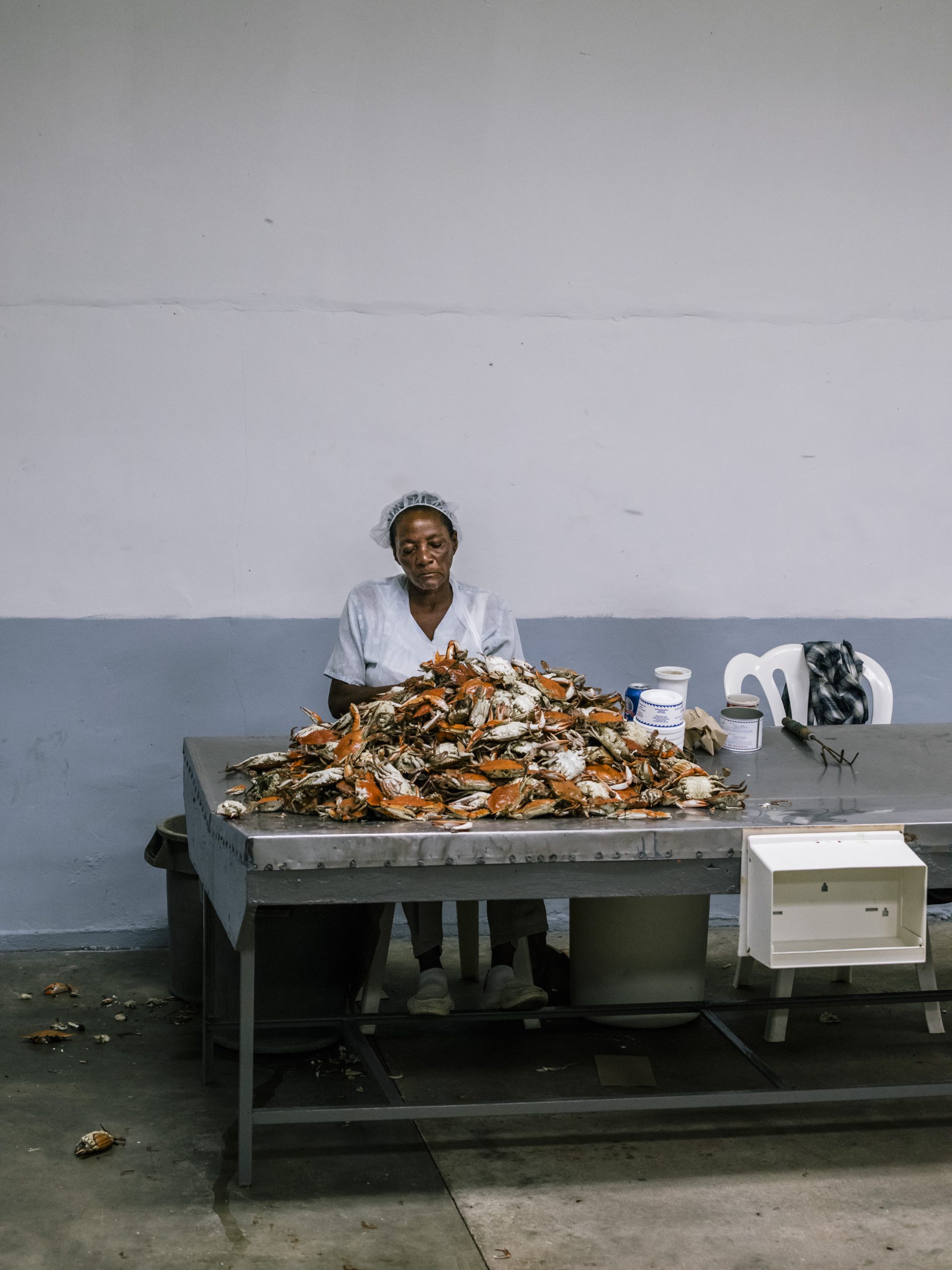 A crab picker at MeTompkins Seafood in Crisfield works through her never-ending pile of the famous Maryland Blue Crab. This picking house is one of the last on the bay, and with less watermen catching, all the industries in the former "Sea Food Capital of the World" are threatened.

Photo credit: Greg Kahn/Getty Images Climate Visuals Grant recipient
Biography
Greg Kahn (b. 1981) is an American documentary fine art photographer. Kahn grew up in a small coastal town in Rhode Island, and attended The George Washington University in Washington D.C.]
3 Millimeters
A look at sea level rise on the Eastern Shore of Maryland, and the slow drowning of a historic culture tied to the tide.
Direct Quote From Greg
I'm deeply honored to receive this grant. The funding will be immensely helpful as I continue to document the Eastern Shore of Maryland and the people's lives that are changing as a result of sea level rise. A lot of this effort takes research and time out on the peninsula, so the grant will go directly to those efforts. When I first began documenting this issue, I talked with a lot of residents in the affected area that didn't believe the science. As time went on, I think even the ones who were skeptical are starting to open their eyes, which is why it's even more important to continue the work today.
Project Proposal
Three extra millimeters of water every year will make land vanish. It will swallow communities. It will change environmental habitats forever. It will cause record pollution. For townspeople along the inner-coastal region of the Chesapeake Bay in Maryland, the impact of sea level rise is no longer an abstract worry debated by politicians. They see the land becoming more saturated beneath their feet.
Thirteen of the bay's southern islands, many of them once inhabited,are gone. "3 Millimeters" explores the waterways of Maryland, where, due to the region's makeup and Atlantic Ocean flow, sea levels are rising twice as fast as the global average and will leap by as much as five feet by 2100. This will submerge more than 250,000 acres of land, displacing more than half a million people. My photographs will document the
consequences of climate change – a process without emergency brakes. The project considers how a community's identity, ever tied to the land, is evolving. Generational farms, once fertile and productive, now wilt as mounting salinity levels from rising tides force families to abandon their way of life.
"3 Millimeters" is not about documenting melting glaciers in cold, far away places. It's not about rampaging storms that inflict swift, sudden and circumstantial devastation on unsuspecting communities. "3 Millimeters" is about the slow drowning of a place, its way of life, and what we can learn from that.
While nothing can reverse rising seas in places like Smith Island or Blackwater NWR, there is hope for others. Gradient sea walls, vegetation re-nourishment and public education are all ongoing endeavors to preserve natural habitat and homes along the coast.  The hope is that it will stop erosion as well as maintain habitat for sea life such as horseshoe crabs and terrapins. "3 Millimeters" will explore what methods are slowing erosion, and what future climate change will mean to this region.
Principles For Climate Change Communication
The Eastern Shore of Maryland is one of the frontiers of climate change in the United States. It is not a far off place with melting glaciers, it is local and happening now. The area affected is a short drive from the seat of power in Washington, D.C. where policy could be enacted to change how we live and fight this unfolding cautionary tale.
The area is also historically conservative politically, but with the rapid loss of land due to sea level rise, even the residents who refused to believe the science are now accepting the truth. This story has the ability to make climate change a local issue for our nation, no longer places on the outskirts that few people live, but a place that has a history back to when settler's first landed on the shores of America